As you probably noticed, I haven't reviewed any products or services for quite some time now and it wasn't because I wasn't asked or because there are no interesting products or services to review.
But when Shane Melaugh emailed me about his new WordPress plugin called Hybrid Connect and asked if I will be willing to review it, I simply couldn't say no.
Why I Couldn't Say No
There are 2 main reasons:
Shane is on my "Guru Trust" list and he is really one of very few marketers I trust 100% and feel confident in the products they create and/or recommend. Shane has created several products before (paid and free) and I have tried and tested all of them so I know the quality I will get.
When I first got started with reviewing products, there was only one person that I found that actually did the type of reviews I wanted to do – real honest reviews – and that was Shane back in his Rich Quick Reviews days (before he re-branded to IMImpact). So being asked by him to review one of his products seems like going a full circle for me from when I only got started doing this kind of stuff and also gives me a little sign of approval that my reviews are what I wanted them to be.
Hybrid Connect
There are numerous WordPress plugins available for the purpose of helping you build your email list and Hybrid Connect is a new addition.
What makes Hybrid Connect different from any other similar WordPress plugin is its Hybrid feature:
When a visitor is logged in to his Facebook account (and between you and me, 99% of Facebook users are logged into their Facebook accounts 99% of the time) visits your site he will be able to join your list with a Facebook Connect button instead of the usual plain name and email opt in that you normally see on every blog/website online.
For the visitors that come to your site and are not logged into their Facebook account than the plugin will show the regular opt in form (name and email).
Why Is This Good?
Because it will increase your conversion rates. Simple and brilliant.
Using Facebook Connect makes it much easier for the visitor to signup. There is no need to type anything and it only takes 2 mouse clicks. Plus (and this is super important), most people use their main email address for their Facebook account so your emails have a much better chance to be opened and read than if it was a secondary email address.
That's Not All
If Hybrid Connect only relied on its newly introduced Hybrid feature it wouldn't last too long. It's quite obvious that other competing plugins will implement this feature sooner or later (and I think some already do) so it has to have more features that will make it stand out from the crowed.
And it does.
It has pretty much everything you would expect to have in a list building WordPress plugin. Here are the most important features I think a list building WordPress plugin should have:
Multiple Auto Responder Services Support
Optin Form Builder
Ease of Use
Flexibility
Browser and Mobile Compatibility
And it seems that Hybrid Connect has all these features, and more. It supports all of the major autoresponder service, it has a great optin form builder, it is compatible with all major browsers including those on mobile devices, it provides you with the flexibility to add your optin forms to just about anywhere you want on your site and it is really very easy to use which is super important in my book.
Additional features include the ability to create lightboxes, popups, squeeze pages and webinar signups.
Hybrid Connect Support
The support that comes with any premium plugin is very important in my opinion. Things that might look very easy to understand for the plugin developers might not be so easy to understand and operate for the plugin users so a really good support system is a must have.
Hybrid Connect has great support.
As you can see in the following screenshot that was taken from the members area, you have access to manuals on all the features Hybrid Connect has to offer. They are all step by step manuals that will help you set everything up easily.
It also has a FAQ / Problems section were it seems that all the most common questions are being posted along with detailed solutions.
And in the slight chance that you still have issues and can't get something to work, you can contact their support desk and get your solution.
Bottom Line
First, I'll be honest with you and tell you that I didn't test all of the WordPress list building plugins that are out there. Not even close. There are too many and I don't have too much spare time since I'm travelling the world and that is a full time job
.
With that said, after checking out Hybrid Connect and seeing all it has to offer and all of its features, I really don't think you can go wrong with it and I don't see much reason to check all of the other competing plugins.
I've been following Shane since I started my online adventures and I'm 100% sure that he will do all he can to keep Hybrid Connect the best list building WordPress plugin out there and you will get full support and new features will constantly be added. The plugin already changed quite a bit since it was first created.
Do You Really Need Hybrid Connect?
YES.
I'm not going to go off on how important it is to start building your email list. I'm sure you heard and/or read it before and I'm pretty sure you already know it is super important.
I will let Derek Halpern from Social Triggers do the preaching on this subject and I really recommend you check this video out.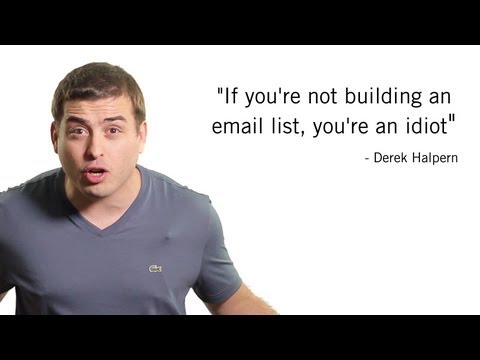 Building an email list is something you must be doing and a list building WordPress plugin is something that you will need to get started. With Hybrid Connect you could be building your email list easier, faster and with much higher conversions.