As you should already know, keyword research is one of the most important factors in internet and affiliate marketing and when it comes to building AdSense sites it actually is the MOST important factor. Doing the keyword research right and finding the right keywords would make your AdSense site building much easier and a hell of a lot more profitable.
Market Samurai has been the keyword and niche research tool that I used for the past year or so and I loved it. I am still using the SEO Competition module every day but once I started looking for AdSense sites, I couldn't help to notice that the research process is simply taking too much time.
Finding keywords according to specific factors which one of them is an available EMD (exact match domain) simply takes too much time with Market Samurai and for me, time is the number one resource that I want to save and I have no problem investing money in tools or services that will allow me to do so.
When I invest money in a tool or service it is mostly in order to help me free more time rather than help me make more money.
Lucky for me (and maybe for you), Spencer from Niche Pursuits thought the same thing that I did a few months back and actually developed a keyword research tool which he named, Long Tail Pro, that makes the entire process much simpler and more importantly, much faster.
I bought Long Tail Pro a few weeks ago and tested it out everyday and I came to the conclusion that most will find it much more useful and will get more value from it than from Market Samurai. To find out why I came to this conclusion, keep on reading.
Long Tail Pro Overview
Long Tail Pro Review
Long Tail Pro is a desktop application similar to Market Samurai and you will simply need to install it on your own desktop. Watch the following video to see exactly what Long Tail Pro is all about: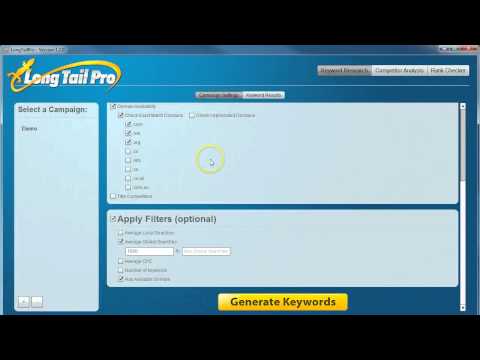 (Click here to watch the Long Tail Pro Video Overview on YouTube)
Long Tail Pro Modules
Long Tail Pro has 3 main modules, the keyword research, competitor analysis and rank checker.
Keyword Research
Long Tail Pro's Keyword Research module is of course the main module and the one you will be using all the time. It is very simple and easy to use as you can see in the above video.
It will allow you to add multiple seed keywords at once which will save you tons of time as this is something you can't do with competing tools. By logging into your Google account which you can do from inside Long Tail Pro you will be able to generate up to 800 keywords per seed keyword.
On top of the ability to search for multiple seed keywords at one time you can also fetch additional data and apply various filters to all the generated keywords which is another huge time saver and some of the filters you won't find in any other competing tool.
As you can see from the images above, you can fetch date about the availability of an EMD (huge advantage and time saver) and title competition (don't make the mistake of assessing competition based on this factor) and you can also filter the results according to local searches, global searches, CPC, number of keywords and the availability of an EMD.
Since I started using Long Tail Pro in order to find keyword to build AdSense sites around, the fact that I can insert multiple seed keyword, set my filters (2000 global searches, $1 CPC and has an available EMD) it really saves me tons of time and helped me find keywords that I doubt I could have found without it.
Competitor Analysis
As you know, keyword research is just the first part of the niche research. The second part is to determine which of the keywords you found are good to build sites around and you do that by analyzing the competition and when I say competition, I mean the top 10 results for that specific keyword.
Long Tail Pro has a competitor analysis module that will help you analyze the competition of any keyword you found. By simply clicking on any keyword generated the competitor analysis module will go into action and will show you all the information you need on the top 10 sites in Google for that specific keyword.
Since Yahoo! Site Explorer has been closed recently, Long Tail Pro is now getting its link information from SEOmoz which is great and the fact that the software was updated very quickly after Yahoo! closed and provided a new source for the links is pretty great and just shows that it will be constantly updated whenever an issue would occur.
To be honest, I don't really like the competitor analysis module of Long Tail Pro and I think it can be better. I am still using Market Samurai's SEO Competition module because I am used to it and I find it to be better. I am pretty sure that Long Tail Pro will keep improving and the competitor analysis module will get better but in any case, it still does the job and provides you with the information you need in order to determine the competition in first page of Google for any given keyword.
Rank Checker
The third and last module is the Rank Checker module and it will allow you to track the rankings of your keywords for any given domain. It is a pretty simple module and not something I am using since I have a much better tool for tracking my keywords. The Rank Tracker module in Market Samurai is also much better.
As with the competitor analysis I'm sure the rank checker module will be updated and improved but in any case, it is just a bonus to have and not something to base your decision upon. The main module is the keyword research module and that module is the main advantage Long Tail Pro has.
Long Tail Pro or Market Samurai?
That is a great question and it was the main question I asked myself before I started testing Long Tail Pro. It seems that Market Samurai has became the industry standard for everything keyword and niche research so finding something better seemed to be impossible.
I can make this long but I decided to make this short. Long Tail Pro is the better choice for most thanks to the fact that it allows you to search for more than one seed keyword at the same time and filter the results according to pre-determined factors.
The bottom line is that Market Samurai is simply much slower and doing the same search and finding the same keywords will take you a lot longer with Market Samurai than it would with Long Tail Pro.
Here is a video that Sepncer made that shows the differences between Market Samurai and Long Tail Pro: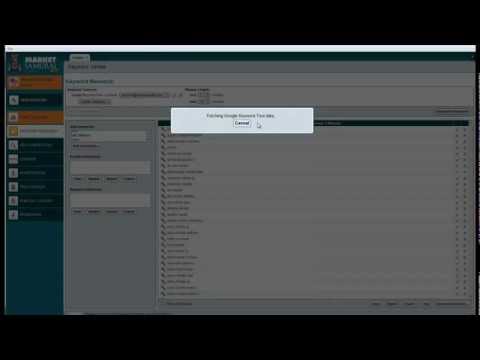 Bottom line
If searching for multiple seed keywords at once and finding which keywords have available EMD's is important to you than Long Tail Pro is a no brainer. These two features are the biggest advantage it has over the competition and in my opinion, the time this features saves is well worth the money.
To you success (and mine 
),