I been thinking about reviewing Traffic Kaboom for quite sometime now but as always, it takes me too much time to get my ideas and plans into action (got to keep seriously working on that). Good thing that Shane Melaugh published his big blog network roundup first 30 day results as that was the trigger I needed to start this Traffic Kaboom review and case study.
It turned out that Traffic Kaboom provided the best results for Shane and it was the only recommended network on his roundup that I never used before. After seeing those results I decided it is about time to test it out myself and get some results of my own for you (and for me) as well as provide a detailed review of Traffic Kaboom.
Traffic Kaboom Overview
| | |
| --- | --- |
| Name | Traffic Kaboom |
| Creator | Jason Katzenback & Jason Potash |
| Focus | Blog Network |
| Price | $49/m* |
| Official Website | http://traffickaboom.com/ |
| | |
Traffic Kaboom Video Overview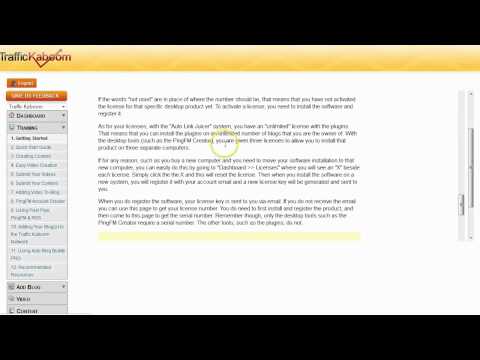 Traffic Kaboom Seems Different
The first impression I had after logging in to the control panel is that Traffic Kaboom is different from any other blog network I used before (and I used just about all of them). It seems to be different and in a good way as it really looks like everything has been thought about from the user point of view and it really gives the feeling that I am using a professional blog network. If that will be the case or not we will have to see, but that was my first impression and I know how much first impressions mean in our world.
Why Traffic Kaboom Seems Different
Here are some of the reasons that let to my first impression:
Traffic Kaboom Navigation
The navigation inside the control panel can't be easier. Everything is located on the left side of control panel screen and you can see in the above video overview all the different options that are included inside these menus.
The menu is divided into 5 different menus to make things even more clear and easy to find. There is really no need for me to further explain anything about the menus as I am sure it is pretty clear thanks to the above video and the screenshot image on the right.
Detailed Training Material
This is really big as it is something that doesn't exist in any other blog network and also shows you that Traffic Kaboom is more than just a plain blog network.
You have detailed training that included videos about every aspect of Traffic Kaboom.
I must admit I was kind of surprised to see all the different options and features inside the control panel as I didn't expect it. When I think of a blog network I simply think about an article submission screen and stats screen showing me how many submissions I got from each article I submitted.
I also felt a little overwhelmed as it seemed I wouldn't be able to submit articles as fast as I wanted to but thanks to the great training material all my questions and/or concerns regarding how to go about using Traffic Kaboom were solved within 30 minutes.
Adding Blogs
This is nothing knew and most blog network will allow you to add blogs to their networks so the networks can grow in size. But the process of adding blogs with Traffic Kaboom is different than in other networks and I found it to be easier and more importantly, giving me more control over what content will be published to my sites, when and where (which categories).
This is super important as I can allow myself to add some of my money sites to Traffic Kaboom which is something I would never do with any other blog network due to the lack of control on the content quality and submission location.
As I mentioned in the video, Traffic Kaboom shows you which blog categories are mostly needed and I assume that if you add a blog in these categories the chances of your blog being approved will increase.
Video Submission
Traffic Kaboom is not only a blog network as it is also a video submission tool. I am not sure I will be using this feature at the beginning but I will try to test it out and see how it works.
You can see the list of 9 video sites that are currently supported by Traffic Kaboom in the screenshot on the right. You can create multiple accounts for each of the video sites which is important if you have different accounts for different niches.
Article Submission
The main concept of Traffic Kaboom (and any other blog network for that matter) is submitting articles with your links inside to various blogs. In Traffic Kaboom case the submission seems to be more strict than in any other network.
The article submission process consists of 8 steps that shouldn't take you more than a couple of minutes to complete once you get used to it and know exactly what to enter where.
I am not sure exactly how unique the articles need to be in order to be approved by Traffic Kaboom (it seems that every article is manually approved) and the first thing I will test is if the Ultra Spinnable Articles are usable with Traffic Kaboom as that would make it a lot more powerful and effective for me personally.
You are limited to only 3 article submissions a day and for every blog you add to the network you will be able to submit 2 more articles every day. For those that didn't really understood what I wrote, here is a simpler explanation:
0 Blogs – 3 daily article submissions
1 Blog – 5 daily article submissions
2 Blogs – 7 daily article submissions
3 Blogs – 9 daily article submissions
4 Blogs – Take a wild guess…
Article Submission Video
I will also add a video showing you an actual article submission so you will get a better idea as how it works and what 8 steps are included in the process.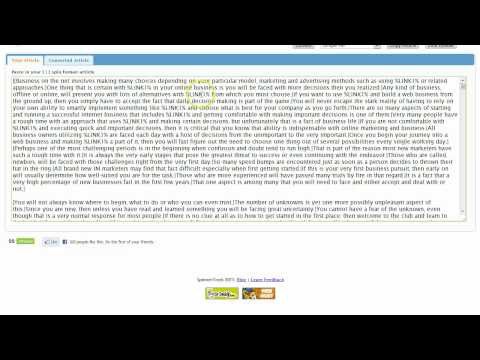 Traffic Kaboom Case Study
I really want to put Traffic Kaboom to the test and provide you with more than the regular product or service reviews you found online. I don't see any better way than to test Traffic Kaboom myself and share the results with you.
Main Testing Factors
Submission Rates
Number of Links
Quality of Links
Rankings Improvement
Target Pages
For the first part of this case study I will target 2 pages on my blog:
Target Keywords
Traffic Kaboom
Traffic Kaboom Review
WordPress Backup
BackupBuddy
Backup Buddy
Initial Case Study Rankings
Traffic Kaboom Page
Here are my initial rankings for the 2 keywords I will will be targeting for this page (I will track the rankings using Market Samurai Rank Tracker module):
BackupBuddy Page
Here are my initial rankings for the 3 keywords I will be targeting for this page (I will track the rankings using Market Samurai Rank Tracker module):
Case Study Results
Stay tuned as I will be updating the results once I get some data and in the meantime, feel free to test out Traffic Kaboom for yourself. It is a Clickbank product so you can actually test it out for 60 days which should be more than enough time to get some results with no risk. Surprisingly, Traffic Kaboom is also cheaper than almost all other blog networks as the $147 for 3 months option means it is only $49/m.
Update 1 (October 16th)
It has been 2 weeks of mainly testing Traffic Kaboom and learning if I can use the Ultra Spinnable Articles with this service. The short answer is yes. The long answer is yes, but with some limitations.
It seems I can use the Ultra Spinnable Articles but you must use an article that is going to be relevant to the links you will be inserting into it. You can't use an IM related article and promote a website about weight loss for example.
This is a serious limitation that you should know about if you are planning on using the Ultra Spinnable Articles with Traffic Kaboom and the way I see it, it's a pretty positive limitation as it proves to me that Traffic Kaboom are really doing all they can to have high quality blogs in there network.
Don't try to outsmart them. Every article goes under a human review process and it seems they really are reading the article (at least a few variation of it) so adding irrelevant links will not work. I really loved that they explain exactly why an article has been declined as that really helped me understand what they are looking for and how to fix my articles.
Submissions Rates
As you can see in the article submission video, the number of maximum submissions is determined by the uniqueness level of the articles you submit (which makes sense if you think about it) and the Ultra Spinnalbe Articles are getting a uniqueness rate of 88% to 91% which just goes to show how really great these articles are.
It also seems that the submission rate varies as I submitted 2 articles on the 2nd of October and one has already been posted 44 times while the other only has 11 postings. This just shows that the categories you select also have a big impact on the rate of submissions.
Update 2 (November 13th)
It has been a little over a month of using Traffic Kaboom and I have some stuff to share with you.
Ultra Spinnalbe Articles OUT
When it comes to what content you can use with Traffic Kaboom, I am sad to say that using the Ultra Spinnalbe Articles won't work. Adding to the already limiting issue of the links needing to be relevant to the article, I also noticed that many articles are being declined due to duplication issues. Meaning that if someone already submitted an Ultra Spinnalbe Article you will probably won't be able to use it.
Article Builder IN
Since I recently got hold of Article Builder, the new content generation tool from Jon Leger, I decided to test it out with Traffic Kaboom and see how it will work. Good news is that it does seem to work most of the time. I submitted 10 articles from from Article Builder and 8 got approved. Keep in mind that these articles are built using PLR snippents so that 80% success ratio really surprised me.
Submission Rates
I am more than satisfied with submission rates and here is a table that shows you some submission numbers:
| Article | Start Posting | Posted | Weekly Average |
| --- | --- | --- | --- |
| 1 | 2011-10-02 | 100 | 20 |
| 2 | 2011-10-04 | 54 | 12 |
| 3 | 2011-10-04 | 57 | 13 |
| 4 | 2011-10-06 | 92 | 23 |
| 5 | 2011-10-06 | 61 | 15 |
| 6 | 2011-10-06 | 65 | 16 |
| 7 | 2011-10-08 | 87 | 22 |
| 8 | 2011-10-08 | 40 | 10 |
| 9 | 2011-10-16 | 58 | 19 |
| 10 | 2011-10-28 | 22 | 22 |
| 11 | 2011-10-28 | 24 | 24 |
| 12 | 2011-11-01 | 22 | 22 |
| 13 | 2011-11-01 | 22 | 22 |
| 14 | 2011-11-01 | 22 | 22 |
| 15 | 2011-11-01 | 20 | 20 |
As you can see the average is about 20 posting a week which I think is pretty awesome. It also seems that posting can go above a certain number which is determined by the uniqueness level of the article.
Rankings Impact
Here are the screenshots of the rankings progress over the past month for the focused keywords. Sorry for the lack of consistent rankings and the gaps you see but I started tracking rankings with Rank Tracker lately so I didn't update Market Samurai's Rank Tracker module on a daily basis.
As you can probably see, overall there is an improvement in all keywords. Traffic Kaboom keywords really shoot up to the top in the first 2 weeks but dropped quite a bit since. The backupbuddy keywords showed very small improvement and WordPress Backup only recently showed some progress.
More updates coming soon.
To your success (and mine
),