Ultra Spinnable Articles is a content delivery service provided by The Leading Articles. If I would need to summarize what the Ultra Spinnable Article service is all about into one sentence than I would say this:
The Best Content Creation Solution for SEO and Link Building Purposes
Now, if this is a solution than there must be a problem first, right?
Good thinking!
The Problem
The problem is simple yet very frustrating. Writing content for SEO and Link Building purposes is not an easy task for most (including myself).
If you can relate to this problem than you have came to the right place as I will show you THE BEST solution I found and believe me when I say that I looked enough.
If writing content for SEO and link building purposes is not a problem for you, than you can simply leave now, BUT I would recommend you keep reading as you might still find this beneficial as it will help you save time (which is the most important asset you have) and probably get better results with less work.
As you probably know (or you will soon find out if you are only getting started), most link building methods and especially the good ones (read: those that provide the highest quality links) will require you to create content in the form of articles.
I don't know about you, but I can honestly say that this was the BIGGEST OBSTACLE for me when I got started. I simply hated (and still hate) writing content for SEO purposes. I mean, no one is really going to read what you write and the main purpose of the content is to get you links that will help you rank higher in the search engines.
And if that is not enough, writing just one article won't do you (or me) any good. You will need to start spinning the article so it will generate a few unique enough version so you will be able to submit it to various sites. Without spinning it enough it won't be accepted to most services that are used for link building.
Don't be confused and think that I hate writing in general. I don't. Far from it. I recently found out that I actually love writing about stuff I care about and trying to provide valuable information for others is something that really excites me.
But writing for link building purposes is a complete waste of time for me and I couldn't even sit down and do it, let alone spin every article in order to get the results I wanted.
I was STUCK.
And I found my way out of that situation thank to the solution that the Ultra Spinnable Articles service provided me.
The Solution
The general solution for those that hate writing content is to simply outsource it. This is quite easy to do these days but will still require you to find someone that will do a good enough job, in a short period of time and for little pay and from my own experience I found out that it is not as easy as most would make you think.
For me, outsourcing in general didn't provide the solution I was looking for.
The Ultra Spinnable Articles service did provide me with the best solution and I think it is without any doubt (or competition) the best content creation solution for SEO and link building purposes. Period.
Now that is a big claim, right? I know, but I am 110% behind it and I will even go further and explain why I think so because I know that the "gurus" might have messed you up and caused you to no longer believe anyone online, especially those that make such BOLD claims (gurus suck
).
Ultra Spinnable Articles Review
I strongly think that no matter what I will write here and how many words I will spill out, I won't be able to make you truly understand how powerful these articles are.
BUT, with that said, I will still provide you with some facts about the service that I think are important to know.
Ultra Spinnable Articles is a service that will email you an Ultra Spinnable Article (USA in short) every day including weekends and holidays. You will get one article a day. The special thing about these articles is that they are Ultra spanned articles that with every spin will generate a completely unique article that is high quality and READABLE.
Here is the process that is being implemented In order to achieve such high quality spinnable articles:
Manually written – Each article is a 500+ words very well researched manually written by veteran Native English Writers (USA / UK / Canada / Australia).
Title Spin - The writers create 25 unique title variations.
Paragraph Spin - The writers create 5 unique variations per paragraph.
Sentence Spin - The writers create 5 unique variations per sentence.
The end result is an Ultra Spinnable Article that is anywhere between 12,500 to 15,000 words (yes, that is no mistake) and allows you to create about 116,415,321,826,934,814,453,125 unique variations from just one article (seems to big of a number right, but just take my word for it).
As I am sure these numbers seem unreal, I think the following video and screenshots taken from MS Word will make it all clear (don't worry, you will get the article and you will be able to see it all for yourself):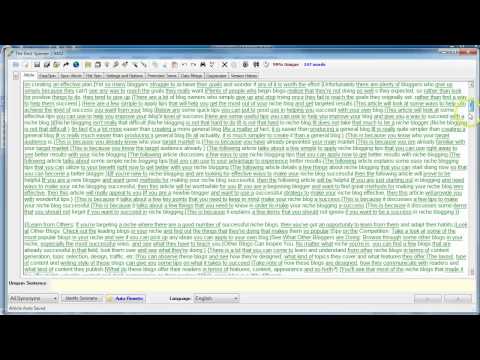 Here is a screenshot of the Word Count for this one Ultra Spinnable Article
Get An Ultra Spinnable Article and See For Yourself
Ultra Spinnable Articles – 6 Variations
You can see the quality and the high level of spinning of the Ultra Spinnable Articles by reading the following 6 variations. All 6 variations are from the same Ultra Spinnable Article. Read that again. All these variation are from the same seed Ultra Spinnable Article.
Still Not Convinced?
I started using the Ultra Spinnable Articles on September of 2010. Just take a look at how many backlinks I was able to create from how many referring domains:
The image above only shows you the link I create to this blog alone of the past few months and this is all thanks to the Ultra Spinnable Articles. My entire link building process is based on these articles and before I started using them I was nowhere to be found on the search engines. Now I can be found for quite a few keywords
The Services You Can Use With The Ultra Spinnable Articles
I have used the Ultra Spinnable Articles in conjunction with just about all the link building services you can think of and so can you. services such as:
SEOLinkVine
Free Traffic System (FTS)
Article Marketing Automation (AMA)
My Article Network (MAN)
SERPassist
Unique Article Wizard
Article Marketing Robot
Blog Blueprint
SEnukeX
Authority Link Network
ArticleRanks
Traffic Kaboom*
and more…
Some are not recommended and some are and don't worry, I will tell you exactly which is which.
What's Next?
This part is simple. This where I stop yapping and you start TAKING ACTION. All you need to do is to enter your name and email below (if you didn't do so already) and I will send you one Ultra Spinnable Articlefor you to check out for yourself. I will also include a special little guide I wrote that will show you exactly how to take that one article and start creating links for yourself. I will also include a special little gift that you will surly appreciate on top of the article and the guide. I just want you to see that these articles work first and I will even show you how to check that.
I hate hype and hoopla but I simply can't avoid saying that once I found and started using the Ultra Spinnable Articles, my online business simply transformed and within one month I started making CONSISTENT 4 figure income and continued to do so for the past year or so.
The Only Downside Is Now Fixed (October 2011)
With the launch of the new marketplace the only downside of this service has been fixed. There is a credit based system now which allows you to select the Ultra Spinnalbe Articles you want and get only those. Previously you didn't know what article topic you would be getting which was a problem for some members but that is no longer an issue. You can select any articles you want from the library of over 1000 Ultra Spinnalbe Articles according to any specific keyword you want.
You can read more about the new marketplace and the new features here
To your success (and mine
),